The Thomas Warne Museum & Library
Here at the Thomas Warne Museum and the Madison-Old Bridge Township Historical Society we are striving to discover, preserve, and pass on the rich history of Old Bridge Township and the great State of New Jersey.
BUT WE CAN'T DO IT WITHOUT YOU!!!
If you would like to join our team of committed historians and continue the work that the Madison-Old Bridge Township Historical Society started back in 1964, drop us a line… 732-566-2108 or email us at [email protected]
Thank you again for your continued support!
To donate right now Scan the QR Code or use the Donate button.
Sincerely, The volunteers of the Thomas Warne Museum and the Madison-Old Bridge Township Historical Society.
Madison Township Historical Society, a qualified organization of the New Jersey Cultural Trust.
We are also a IRS 501 c(3) charitable organization. Your donations are tax deductible as permitted by law. Consult your tax advisor for more information.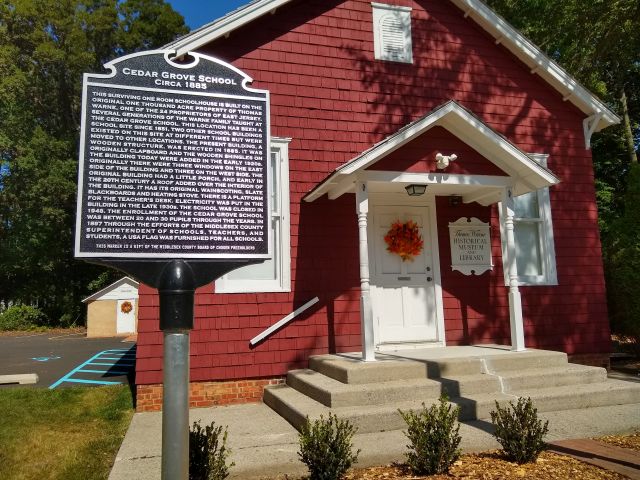 About the Thomas Warne Museum & Library
Thomas Warne was one of the Twenty-Four original proprietors of "East Jersey" (the Raritan Bay Area). In 1682 Thomas and his father purchased 1000 acres of land between the Cheesequake and Matawan Creeks. 187 years later, in 1869, Madison Township was formed. Thomas' "little" parcel of land lay at the heart of this growing farming community, and his descendants continued to thrive there. On a two acre plot of Warne property, in 1820, a one room schoolhouse was erected and dedicated to the education of the area children. It was named "Cedar Grove" and served the town well for 127 years. Through wars, droughts, and the Great
Depression thousands of 1st through 8th grade students attended Cedar Grove School. There were some changes over the years, including, in 1885, changing of the building. The original schoolhouse was moved to an adjoining farm, a "New" schoolhouse was erected and time marched on until the school's closing in 1947. Now let's fast-forward a couple of decades to 1964. It was in that year that a group of pioneering residents of Madison Township (Present Day Old Bridge) got together and decided that the two things that their town lacked were an historic preservation group and an educational museum to highlight their efforts. With vision and their own collections of artifacts, research, and memories they created the Madison Township Historical Society, a 501(c)(3) not for profit organization, and The Thomas Warne Museum & Library. 
The museum was so named because of it's location on a portion of Thomas Warne's 1000 acre parcel of land. It has been reported that Thomas, who had an excellent rapport with the local Native Americans, had built a wigwam nearby in 1685. For nearly half of a century the Thomas Warne Museum (housed in the tiny one room Cedar Grove Schoolhouse which in 1999 was expanded to include a display gallery) has been a vital historical site and a source of education and information from the earliest days of the area's history. The Madison Township Historical Society's mission is the acquisition and preservation of area history, and the education of our children. From our newly updated computer systems to aid you in your genealogical and historical research to new programs, living histories, and events… The Thomas Warne Museum Has Something For Everyone!
STOP BY AND SEE HISTORY COME TO LIFE!
HISTORY
A CONCISE HISTORY OF OLD BRIDGE TOWNSHIP
Madison Township's name changed to Old Bridge Township in 1976. The history of the Township dates back some three hundred years.
Madison Township was once part of the extensive Township of South Amboy and, earlier, part of the South Ward of Perth Amboy Township. South Amboy Township was established in 1685 as one of the largest governing bodies of its kind as part of the British Colony of East Jersey. One hundred fifty years later, South Amboy Township began to break up into smaller townships – Monroe in 1838, Madison in 1869 and Sayreville in 1876.
This area was settled by the English, Scotch, French Huguenot and a few Irish and Dutch settlers. Most early landowners were property speculators and bought the land for quick resale and profit. The many mill streams within our boundaries were used to great advantage as soon as the first pioneers settled.
The early discoveries of the fine stoneware clay along the banks of the Cheesequake Creek opened up the clay industry for both Middlesex County and the State of New Jersey.
The beach front on the Raritan Bay, from Cheesequake Creek to Whale Creek, was patrolled by the 2nd Regiment Middlesex County during the American Revolution. Because our extensive frontier faced the British, a constant guard and communications system was set up for the duration.
Thus, the Old Bridge Township area had a vastly different development and population than the rest of Middlesex County. Its isolation by the great Raritan River, its poor soil conditions, and its use and abuse by proprietors, give this area a unique history.
Information and Hours of Operation
Monday through Friday by appointment only.  (Groups & School Tours)

Saturday 12PM to 4PM  (Open to the General Public)

Special Note: In the event of inclement weather and a State/County/Township advisory has been issued to stay off the roads: the Museum will be closed for the safety of our volunteers and patrons. This includes regular opening hours and special events (unless otherwise noted within event advertising). It is always best to call before visiting, within the hours noted above, and speak to one of our Board members or volunteers.
The museum is available for group and private tours. Our school programs are completely customizable and are available for public, private, parochial, and home schoolers. We can accommodate up to 85 students and their chaperone's per tour or program.
The Cedar Grove School has been listed in the National Register of Historic Places by the United States Department of the Interior. It is also listed in the State of New Jersey Register of Historic Places.